So far, so good! Hope you're enjoying my Tanzanian experience and maybe consider similar trip for yourself 🙂
Our next stop after Tarangire NP and Lake Manyara was Lake Natron. On the way to this conservation area we observed amazing landscapes. Some of them were really like from another planet.
1. On the way to Lake Natron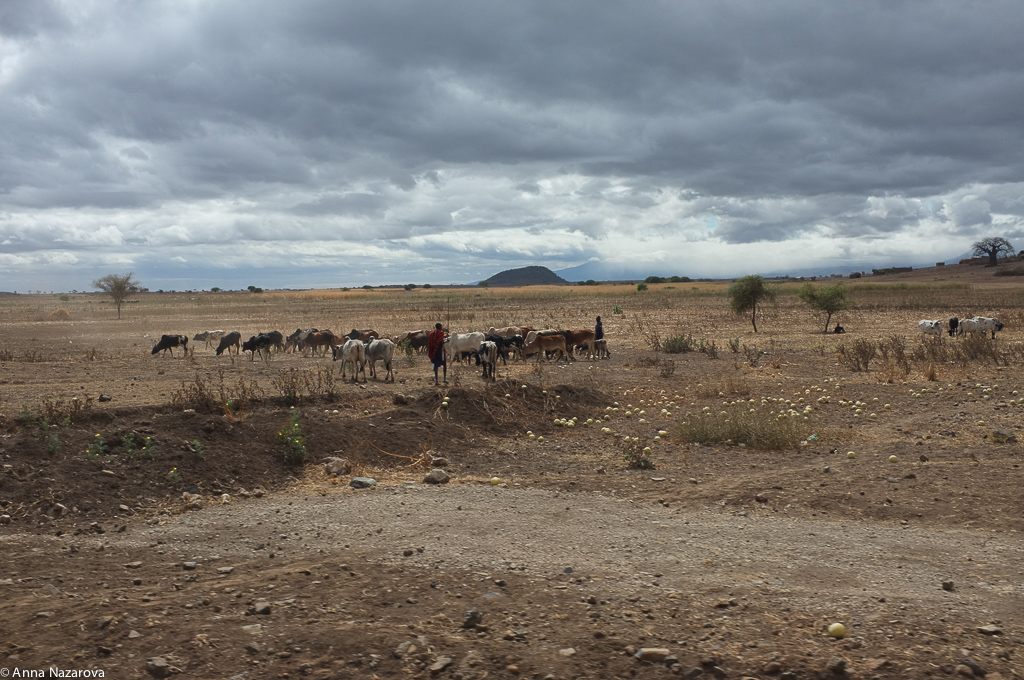 2. Giraffes on the way to Lake Natron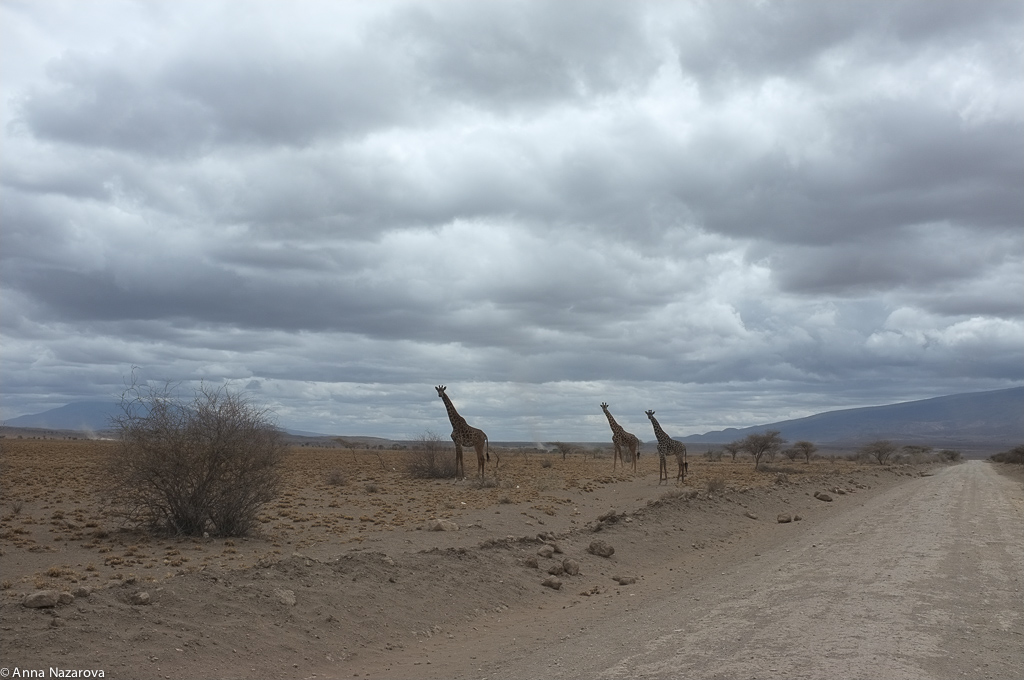 3. On the way to Lake Natron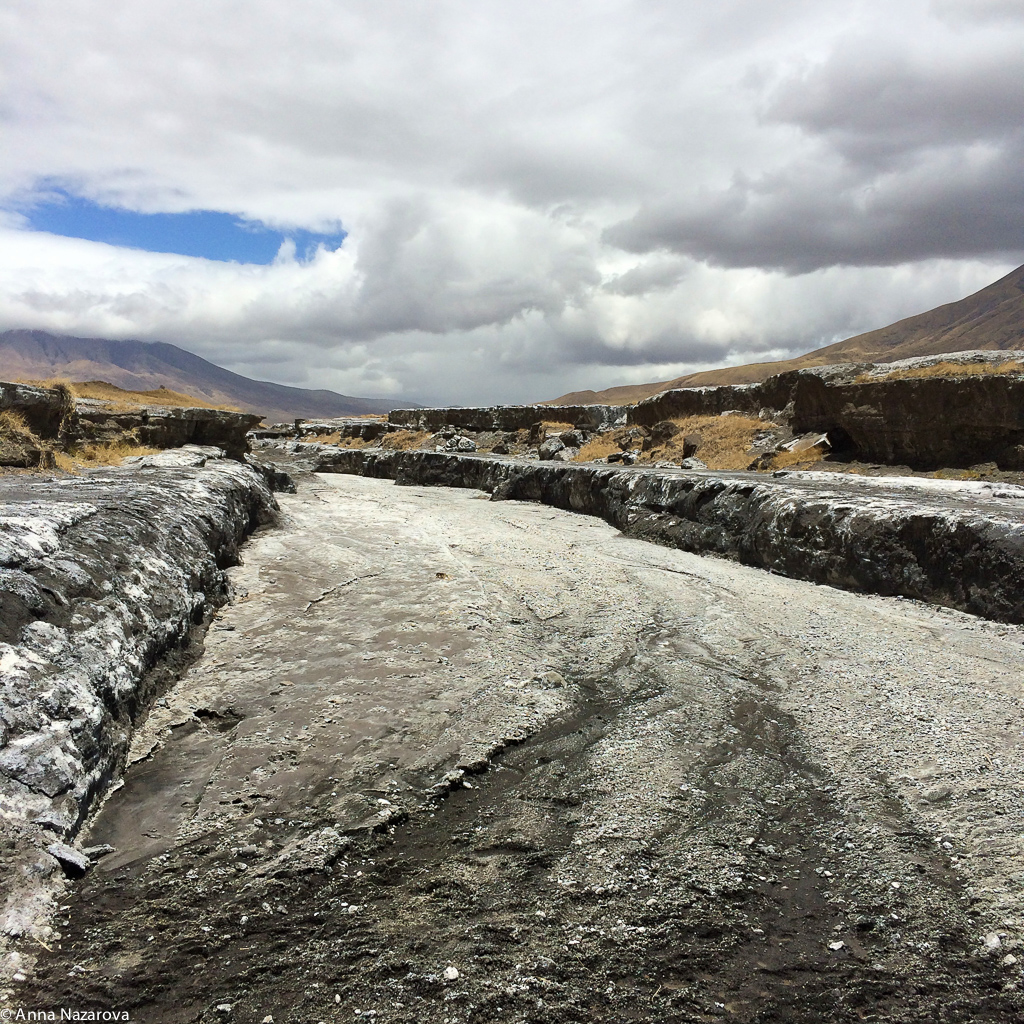 4. Entrance to the park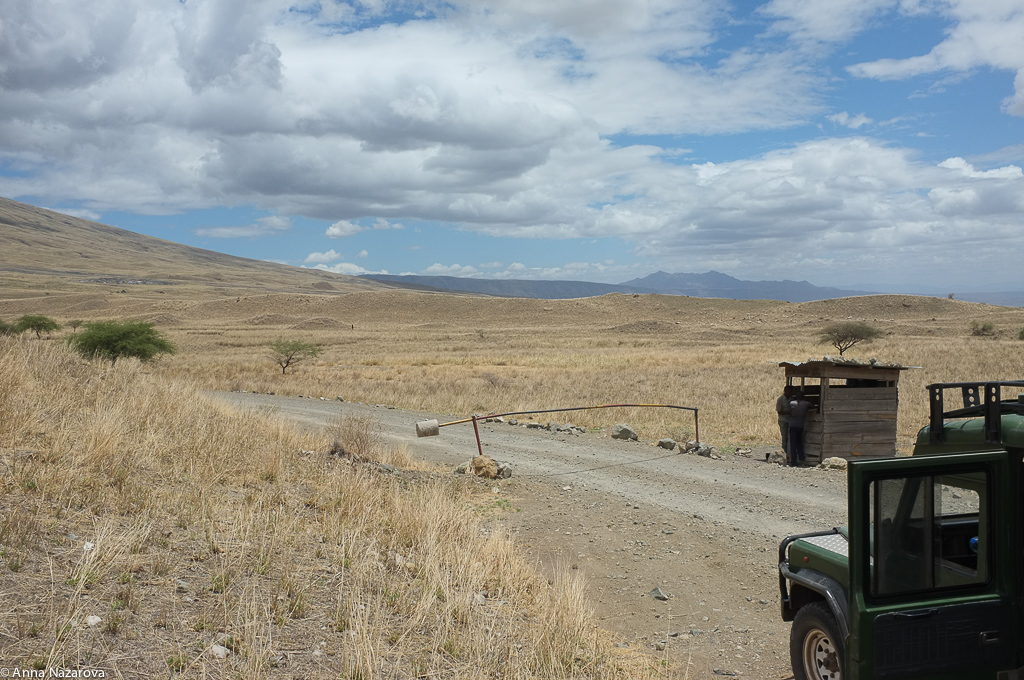 This area belongs to the Maasai tribe, so there are basically two accommodation options: campsite near village on the hill (about 15 minutes to the lake by jeep) and a luxury lodge right at the lake. Both have some pros and cons. The second option allows you to get to the lake when you want to and just spend more time there, though it's more expensive. The second option is nicer in a sense that you live in a close proximity to the village, so you can talk to locals, talk to the kids and just walk around on your own. We didn't know about the second option so we stayed at the campsite. The atmosphere was really amazing: very quiet, peaceful and relaxing. There are not so many tourists around. I loved this place. Down the road is another Maasai village, so you can watch how the people pasture cattle, mainly cows and goats.
As a visitor, you are equipped with your own Maasai guide who takes you to the lake and to the waterfall. Well, there are mainly three things you can do there: walk at the lake and enjoy flocks of flamingos, walk to the waterfall and enjoy refreshing swimming and climb Gelai Volcano (at night). So if I knew, I would spend not 2 but 3 days there and would definitely climb this amazing volcano. Hopefully, next time…
5. Gelai Volcano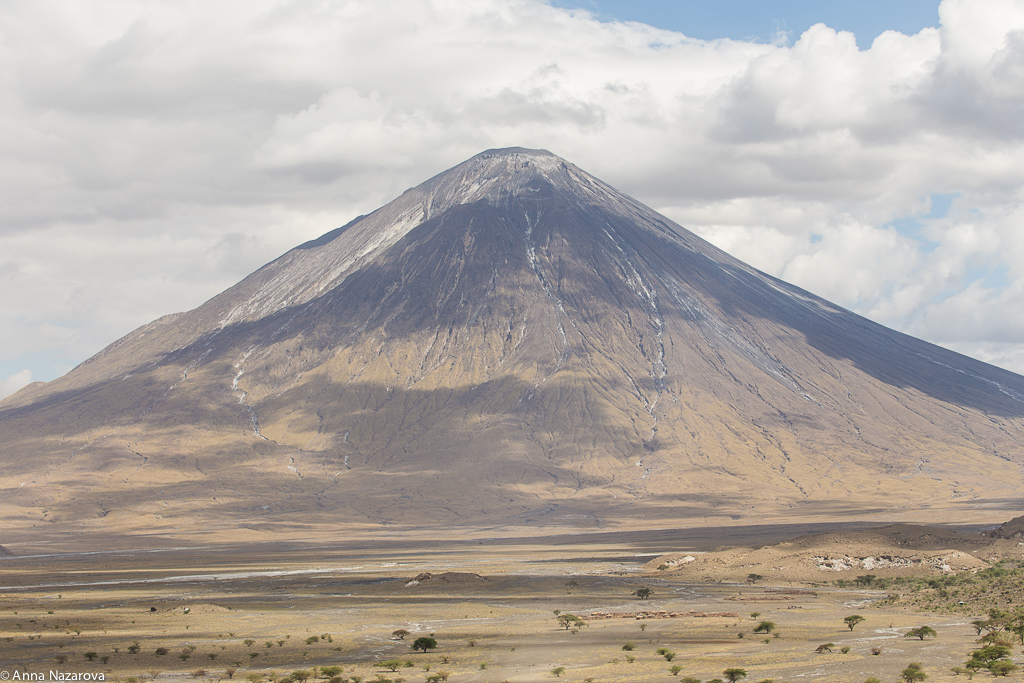 6. Maasai village landscape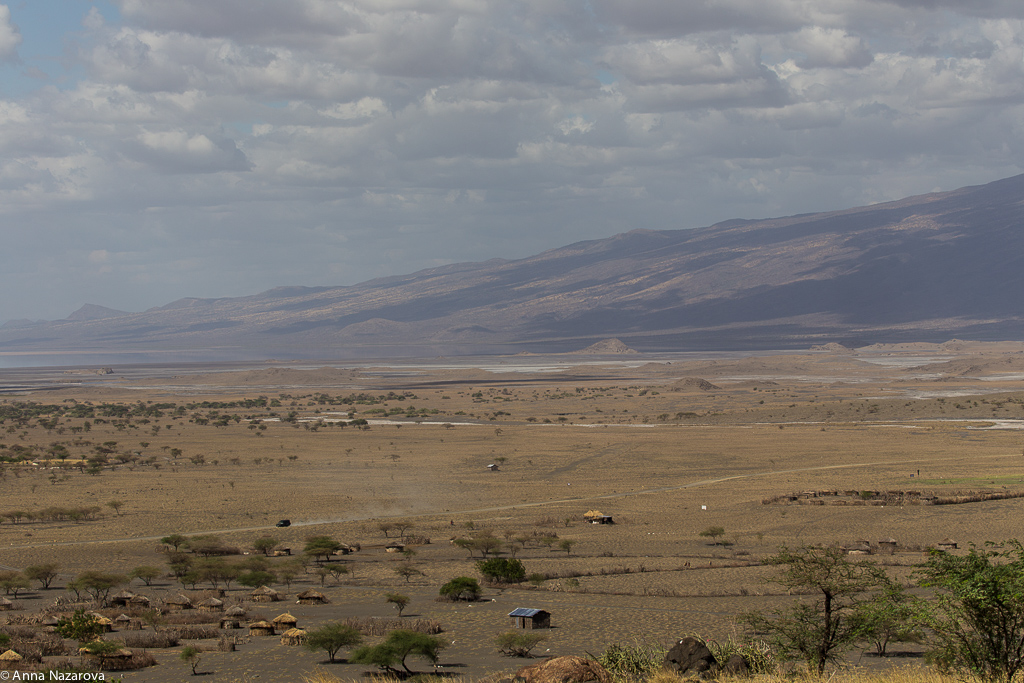 7. Maasai village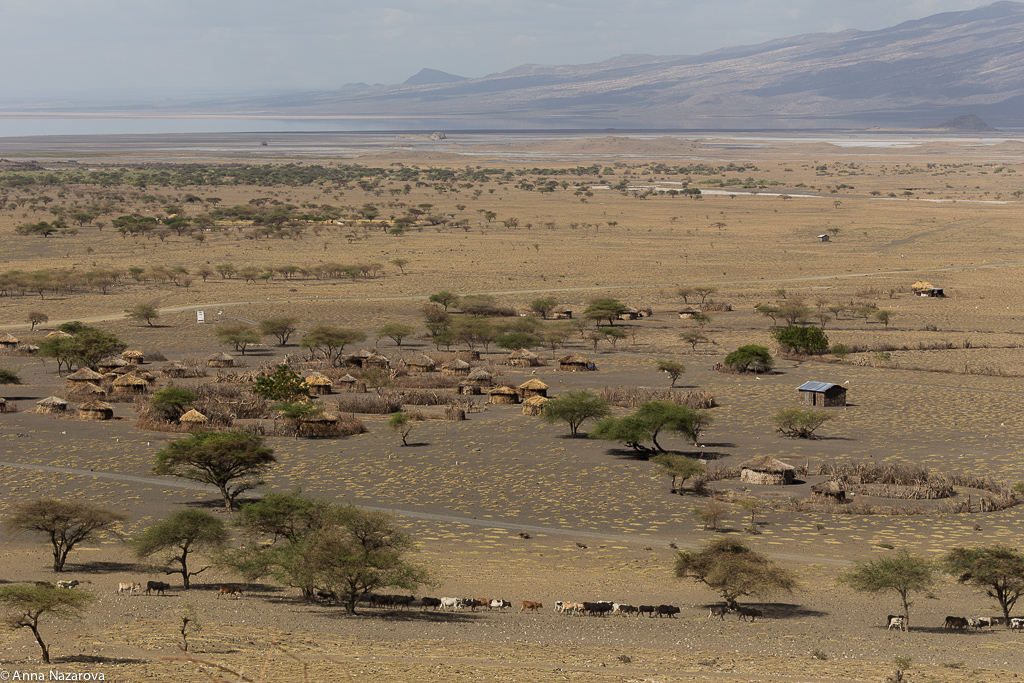 After arrival, we had some free time and during afternoon we were supposed to go the waterfall for refreshing swimming. Don't bring your valuable belongings with you, otherwise bring good waterproof bags for your camera and documents. When we did our first trip there, I of course took all my stuff, which was not very wise to do, so when we did the second "trek" to the waterfall, I left all the things at the camp and no problems occurred. It was completely safe. Maasai people are truly amazing. I also recommend not to wear any hiking shoes or keds, the best option is trekking sandals. You also need lots of water, some snacks (maybe) and sunblock. It's better to start your trek at about 3 pm, so you have enough time to get there and have enough time for swimming before it gets dark.
8. "Road" to the Waterfall at Lake Natron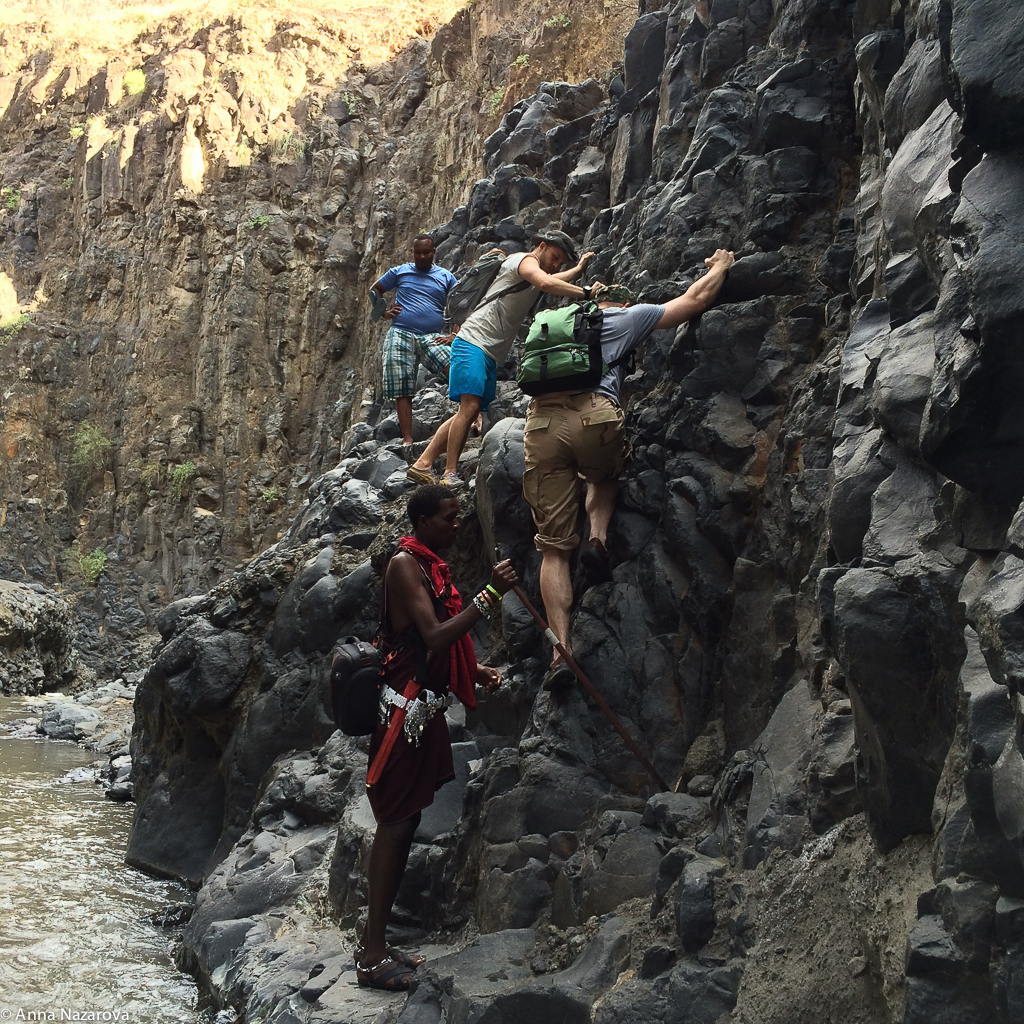 9. "Road" to the Waterfall at Lake Natron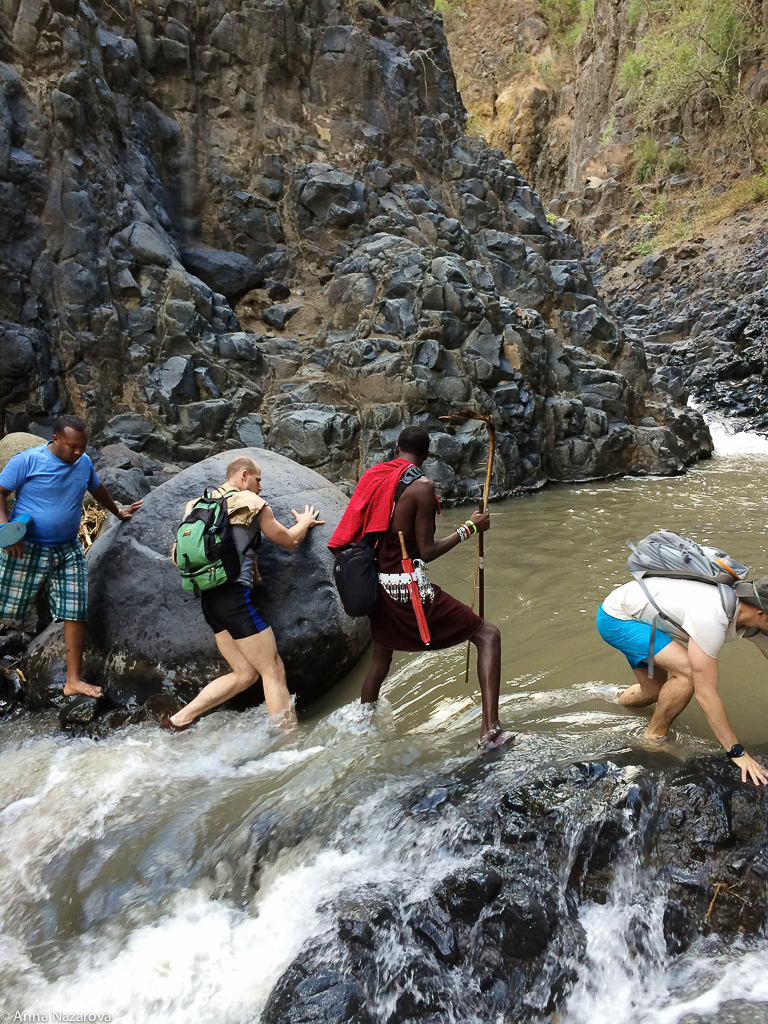 The Waterfall itself is not big, but very beautiful and refreshing. You can swim "inside" and fully enjoy how heavy water falls down to your back… Amazing feeling!
10. Waterfall at Lake Natron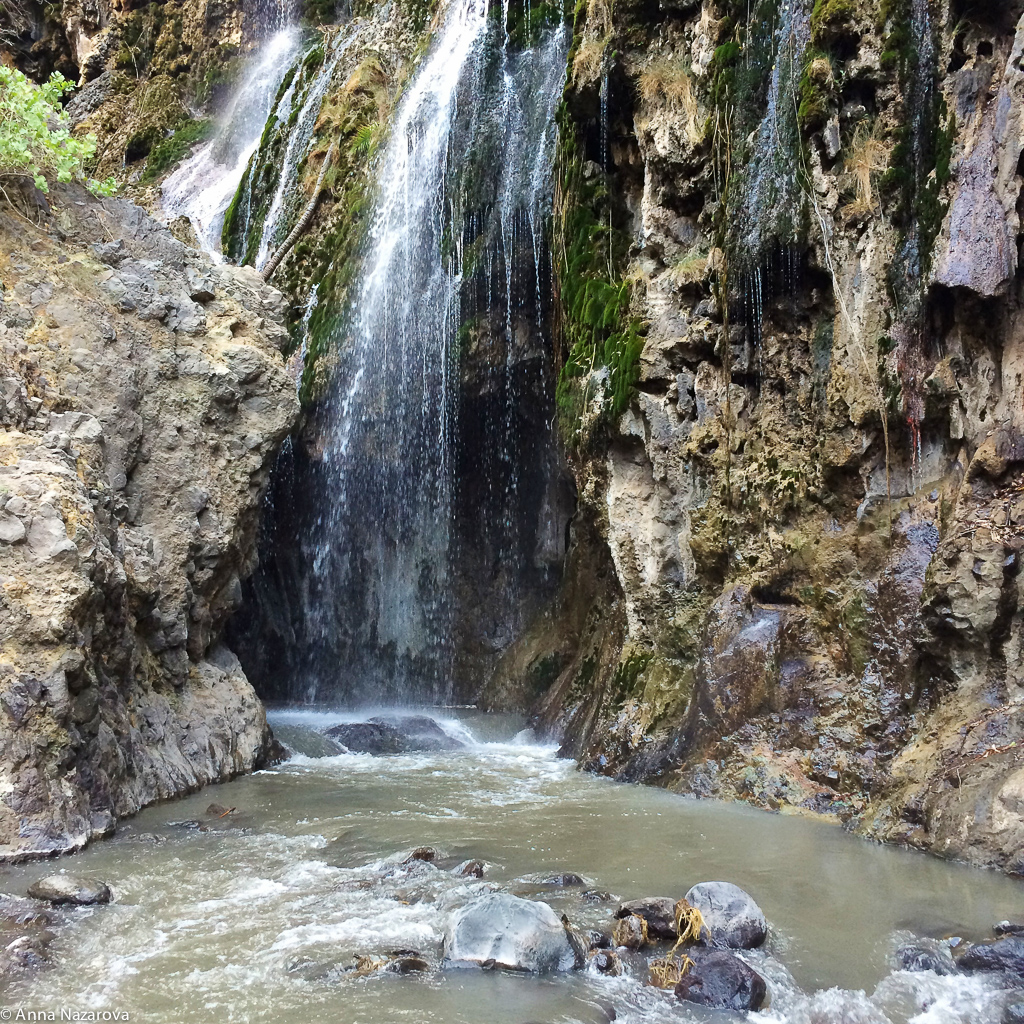 11. Waterfall at Lake Natron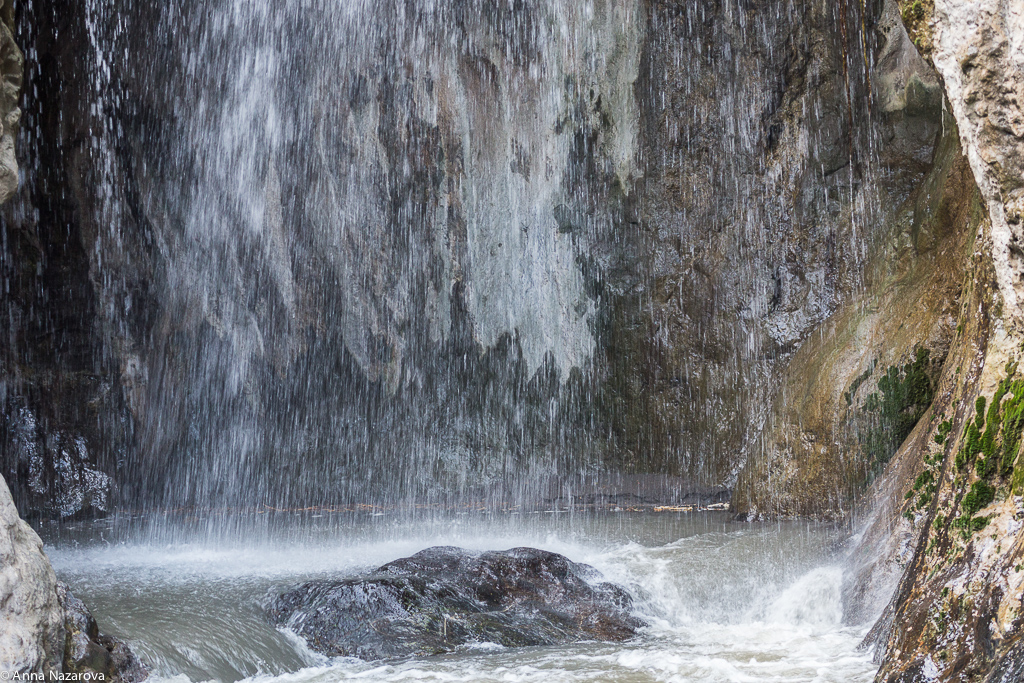 On the way to Natron and back you can also enjoy watching the soil formation views.
12. Soil at the Waterfall walk at Lake Natron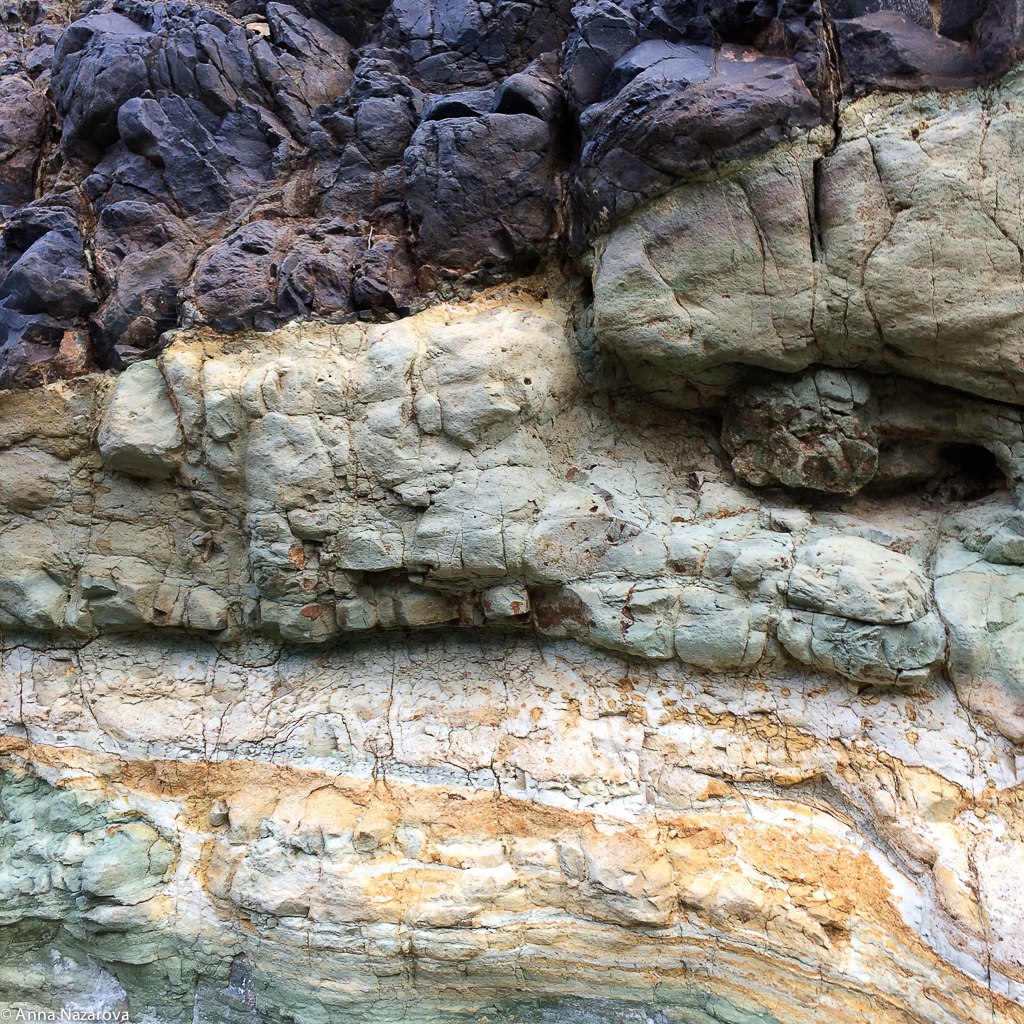 After we came back from the Waterfall, we had dinner and then made a small walk outside of the camp. Unfortunately, I don't have pictures. But I can say it was one of the most amazing and mysterious nights I've ever had in my life. Imagine full moon, greyish landscape with Gelai Volcano around you, thousands of stars in the sky, kids are singing somewhere in the village, bells of the cows and goats and some running dogs or jackals here and there… Since it gets dark at about 6 pm, then you have dinner until 8 pm, so you have about an hour or so to enjoy this dark atmosphere. I wouldn't recommend to walk long, since in the morning you can wake up at about 5:30 to catch up beautiful sunrise!
13. Sunrise at Lake Natron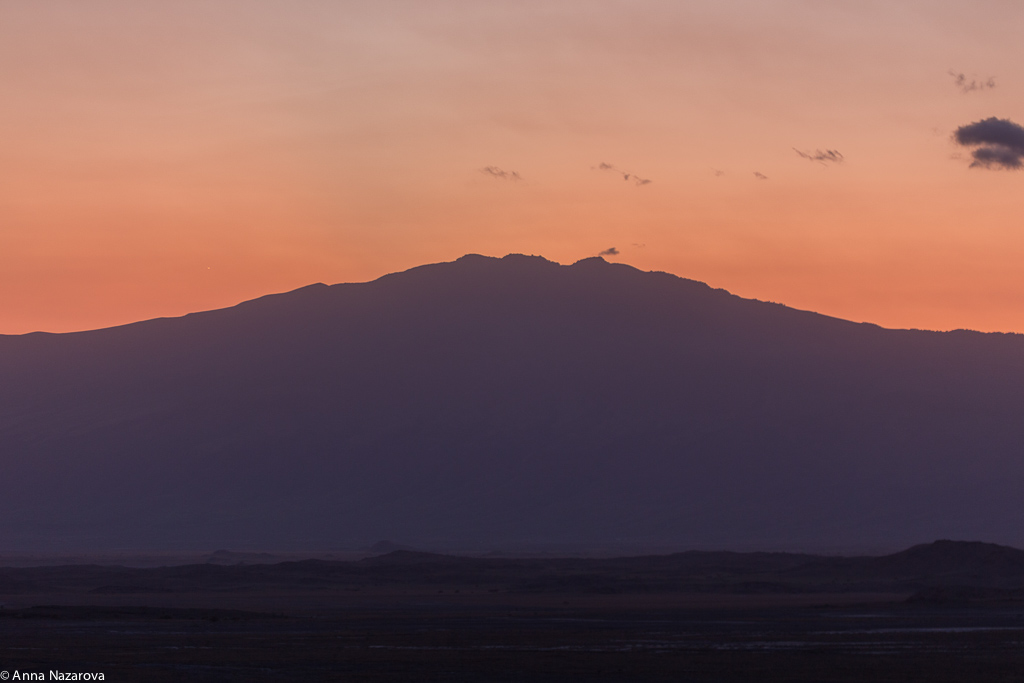 14. Lone tree at Lake Natron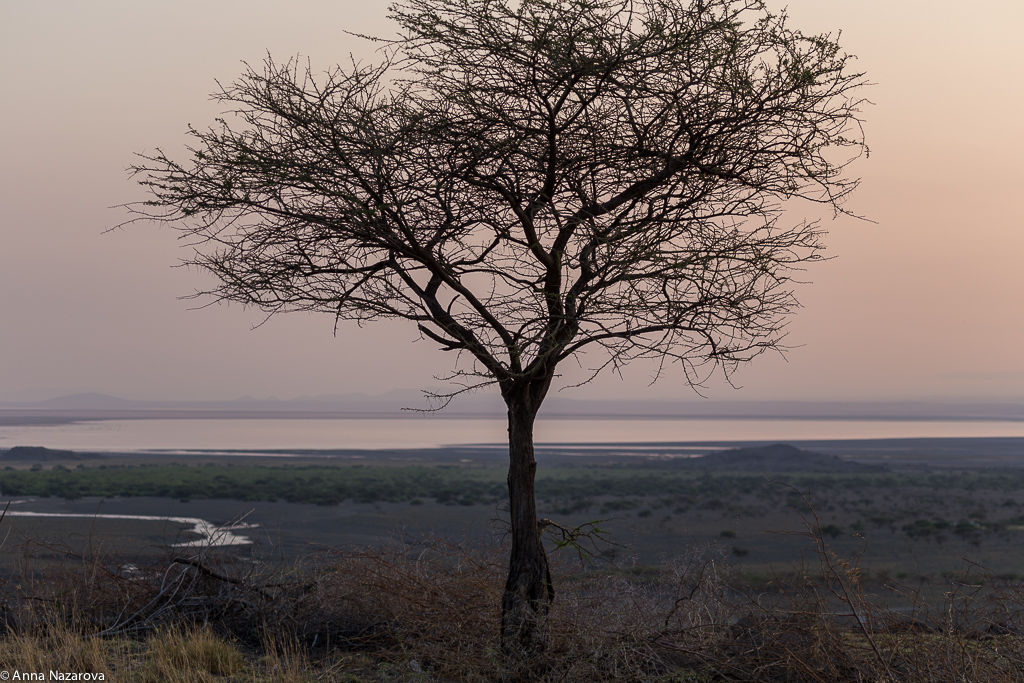 When the sun shows up, you can start watching how the village wakes up and people "go to work" for the campsite.
15. Maasai people are going to work for the campsite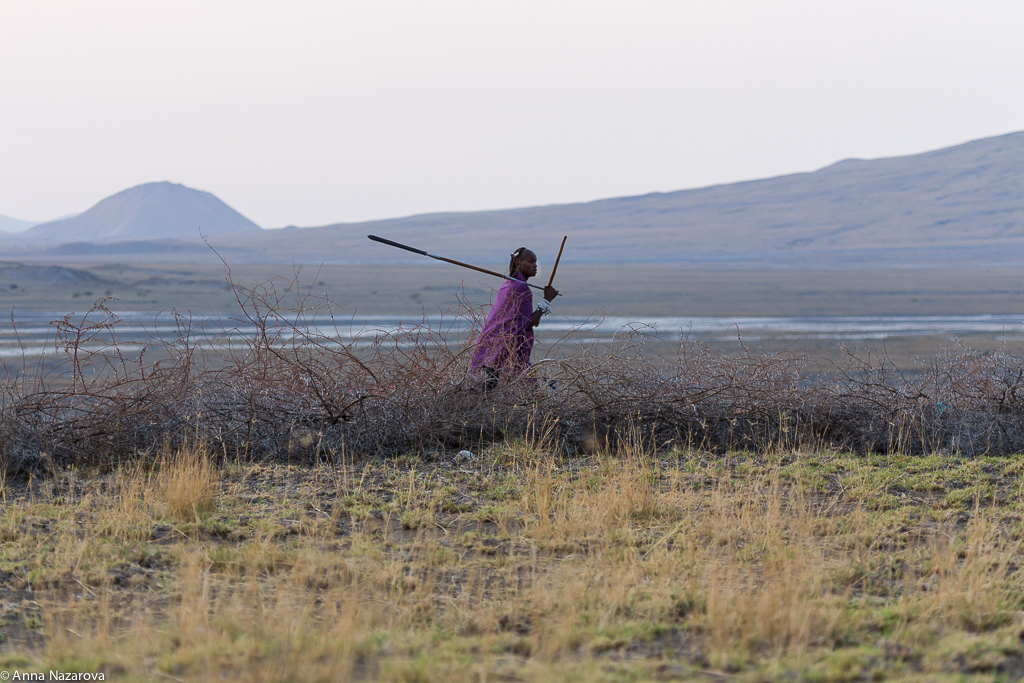 16. Maasai people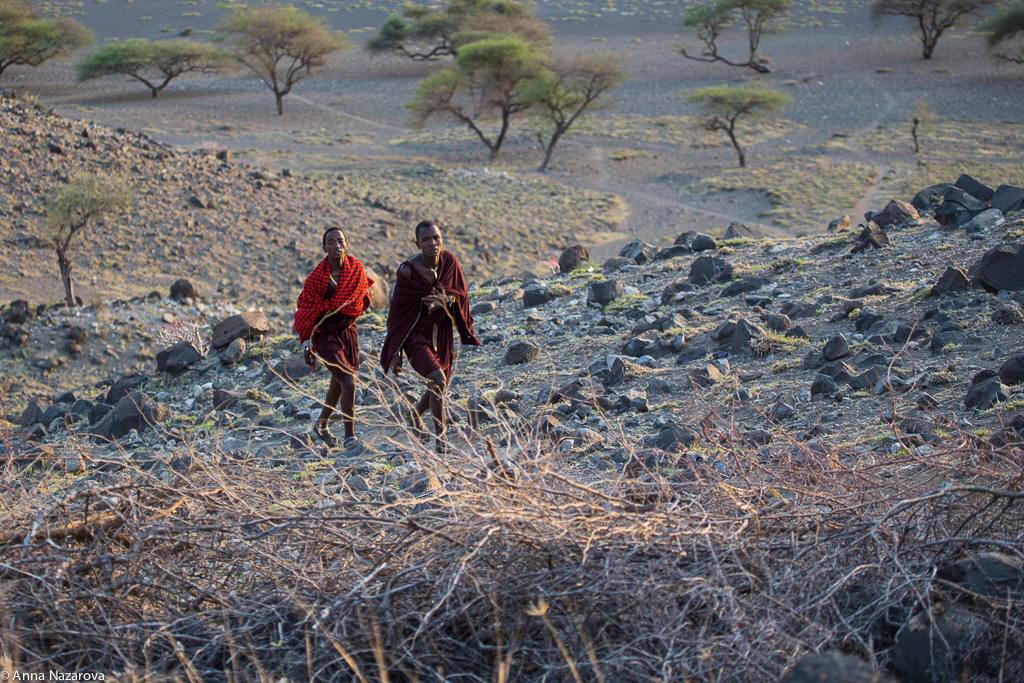 You can see how people in the village start their daily pasturing.
17. Maasai village in the morning at Lake Natron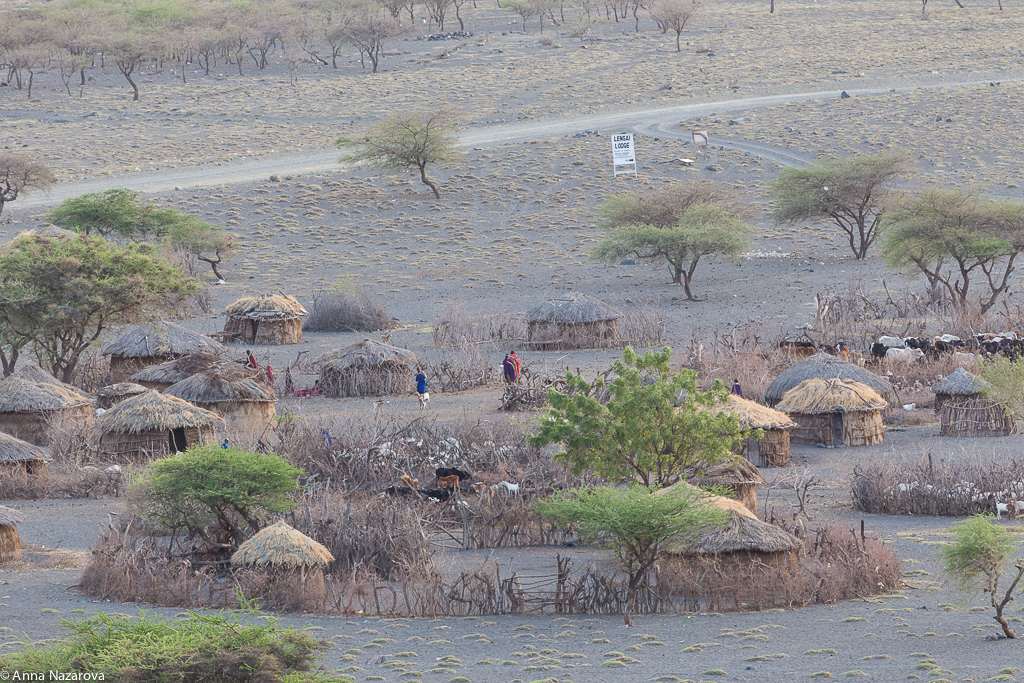 18. Cows at lake Natron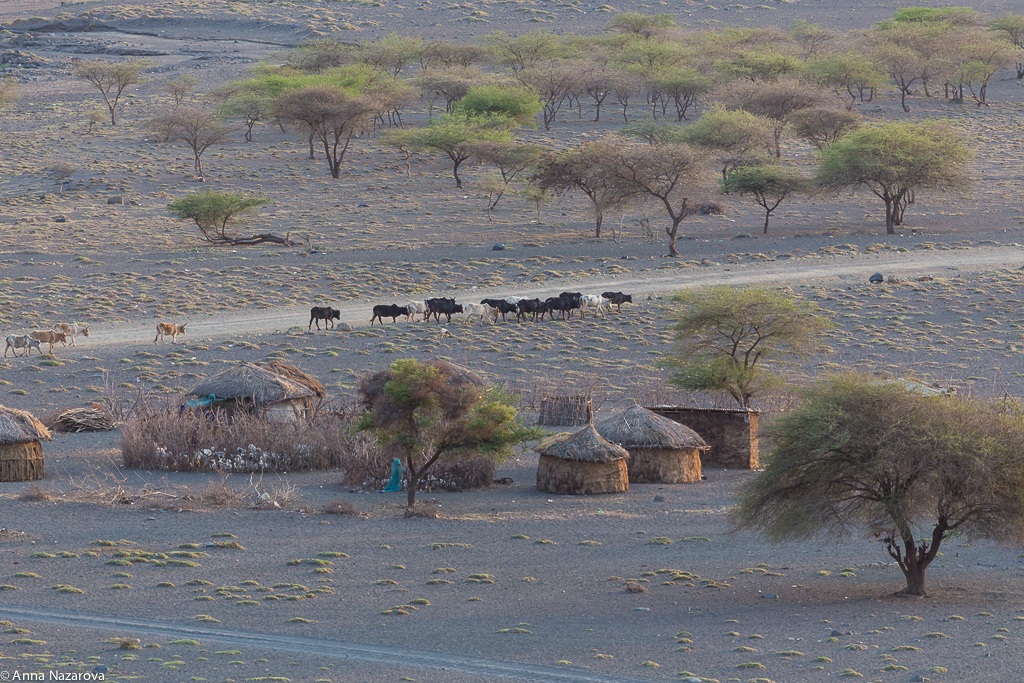 After breakfast, you finally go for a walk at the lake for the main reason to go there, I'd say. You will see flamingos. Lots of flocks of flamingos. I'll make a separate post about these beautiful creatures. So this time just a few photos. They are extremely hard to shoot. So you need a very good (fix is better) zoom (100-400 was not enough, 600 would be better) lens and shoes, because at the borders the lake is very-very muddy, so I wore trekking sandals and could wash them afterwards with no problem. Since it's also slippery there, be prepared to get really dirty… During that day we did two lake trips: in the morning and in the afternoon, because the light is at its best.
19. Flamingos at lake Natron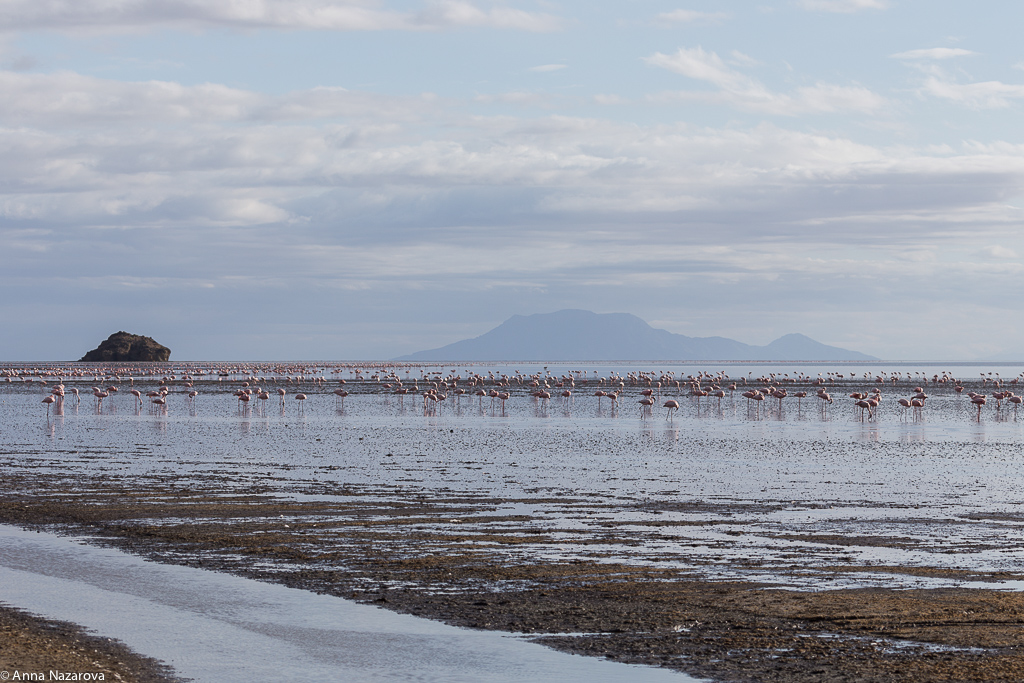 20. Flamingos and Gelai Volcano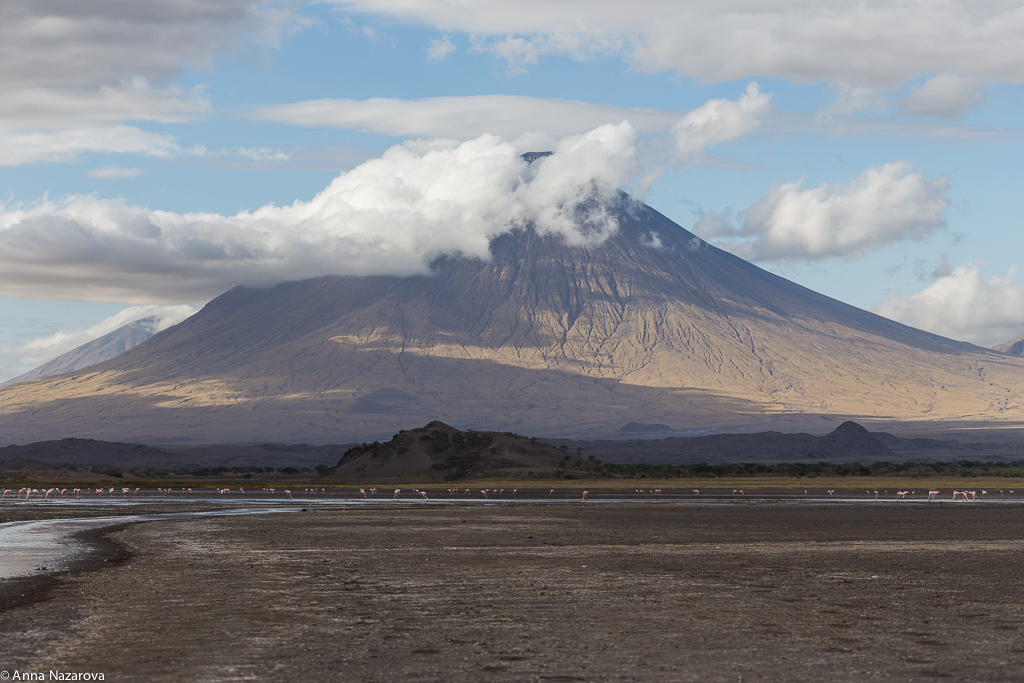 21. Maasai women (they will sell some jewelry and other stuff to you later) and flamingos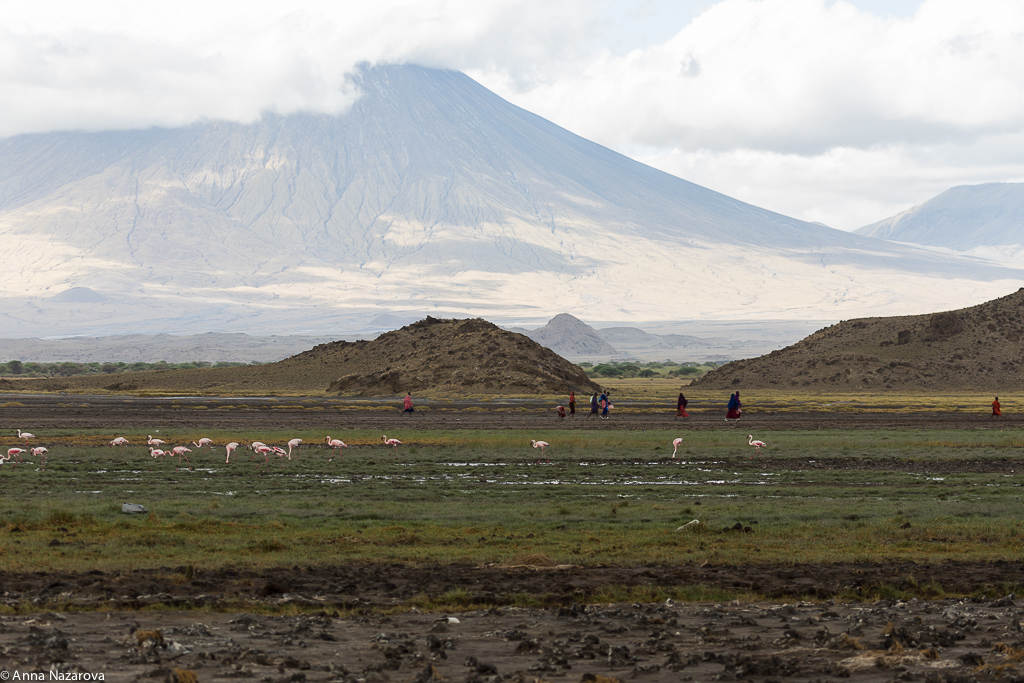 After walking at the lake, we came back to the campsite by foot via Maasai village. I really recommend to go the lake as early as possible, since if you go back by foot, it's very hot to walk through the bush and you get tired pretty fast. On the way we spotted some donkeys which belonged to the villages.
22. Donkeys at Lake Natron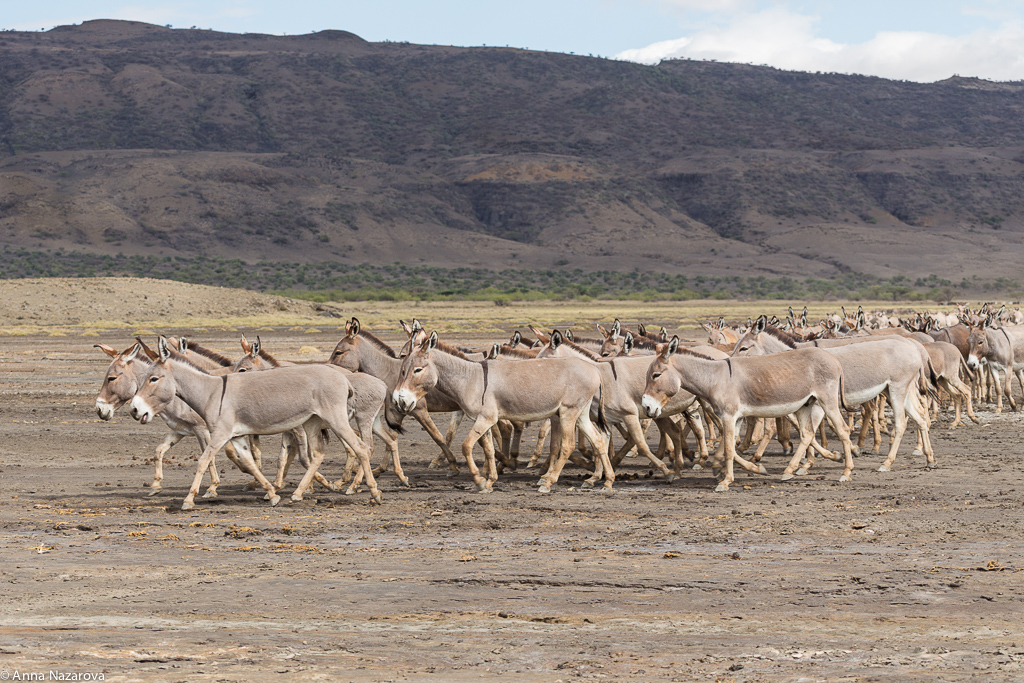 Then afternoon we again did the same trek to the Waterfall to refresh ourselves and then went back to the lake.
23. Our Maasai guide at Lake Natron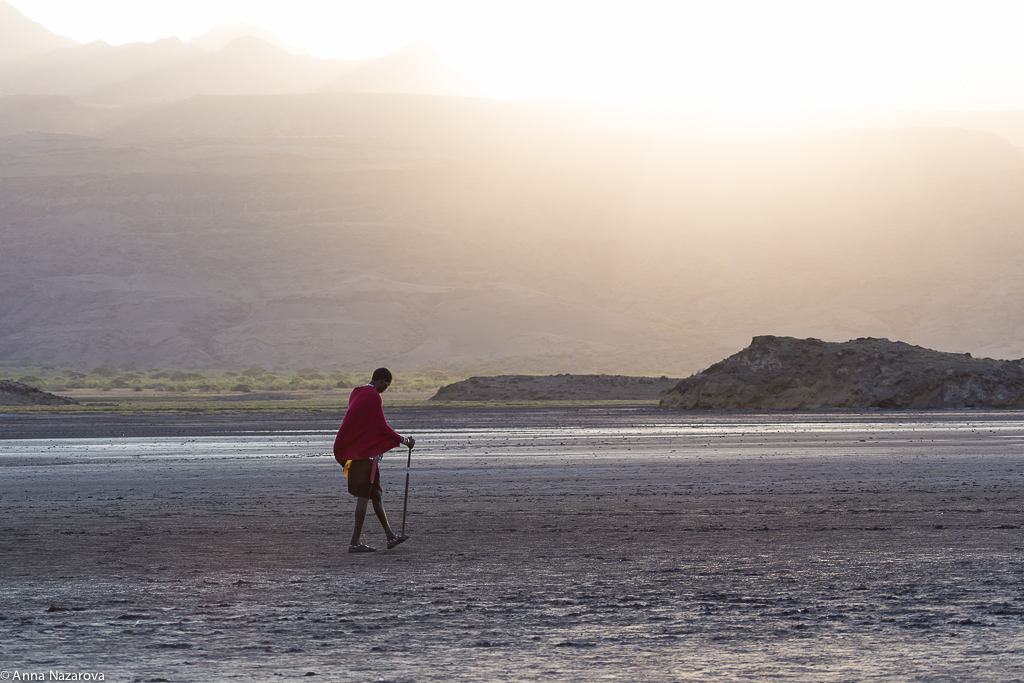 After another night, in the next morning we left this wonderful place. I think Lake Natron is truly a gem, don't skip it if you have a chance go there and enjoy.
24. People at the campsite and me 🙂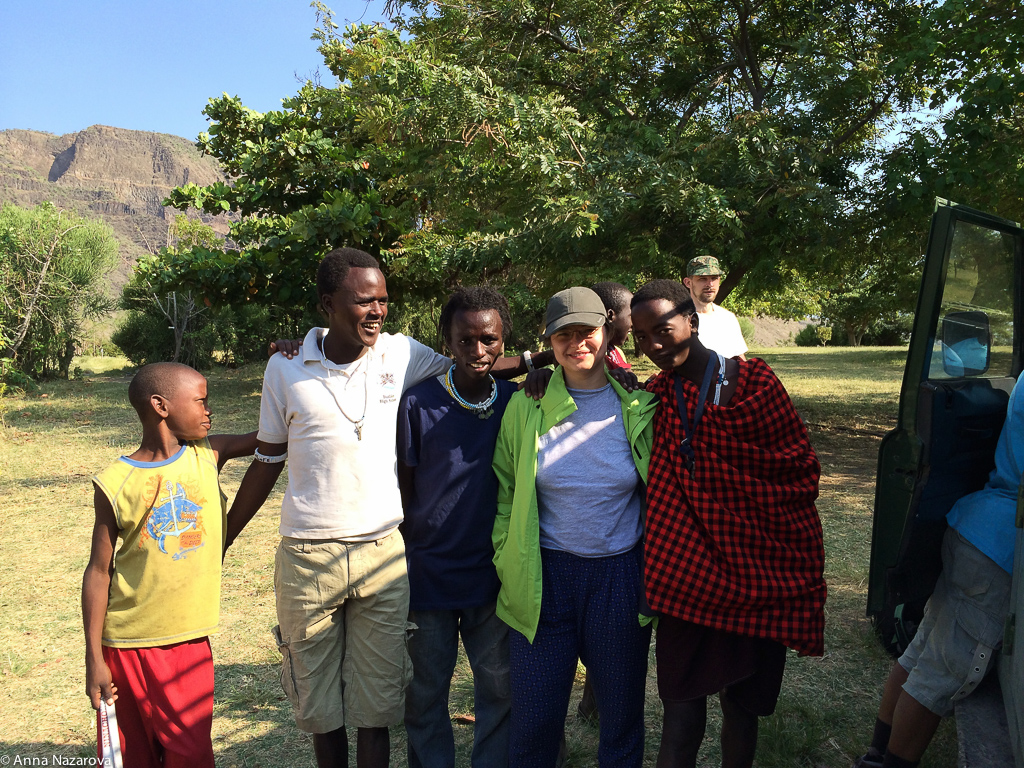 After Natron we continued our way to Serengeti National Park, one of the most famous national park in the world. The road was extremely hard, it took us about 8 hours… So be prepared to experience a very bumpy journey.
And the last few views to the lake after we left.
25. Lake Natron landscape. Those pink stripes are flamingos…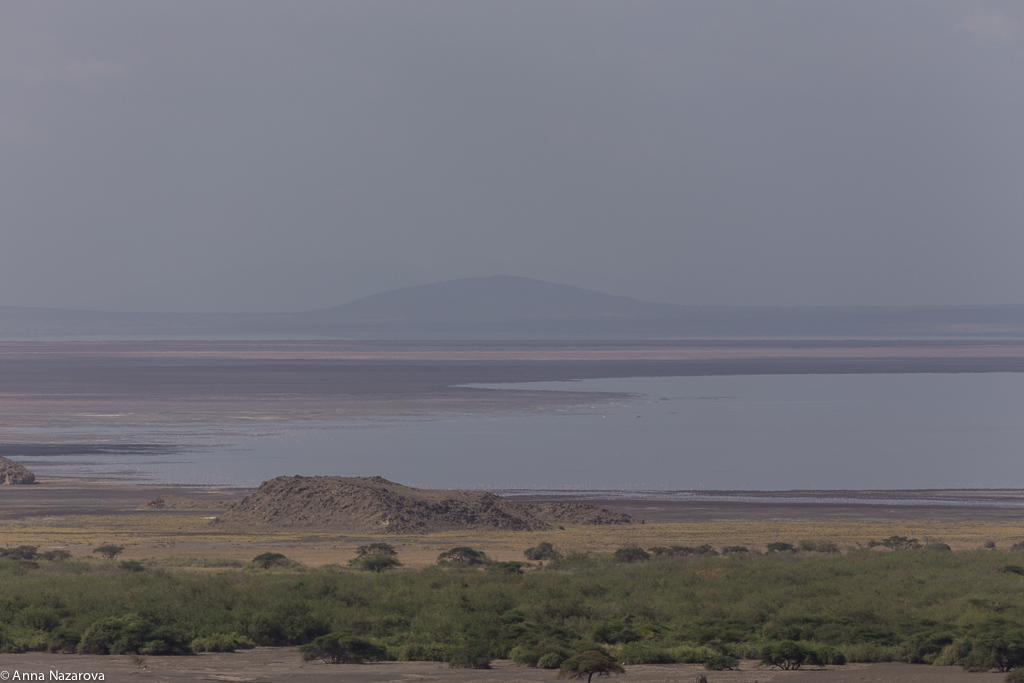 26. Lake Natron landscape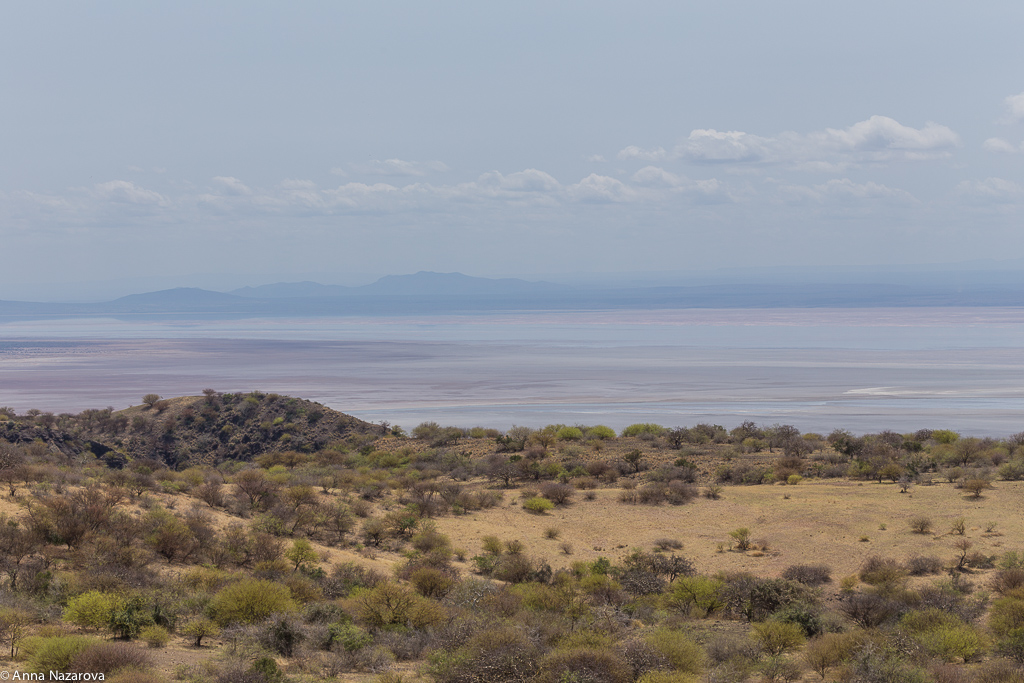 27. Lake Natron landscape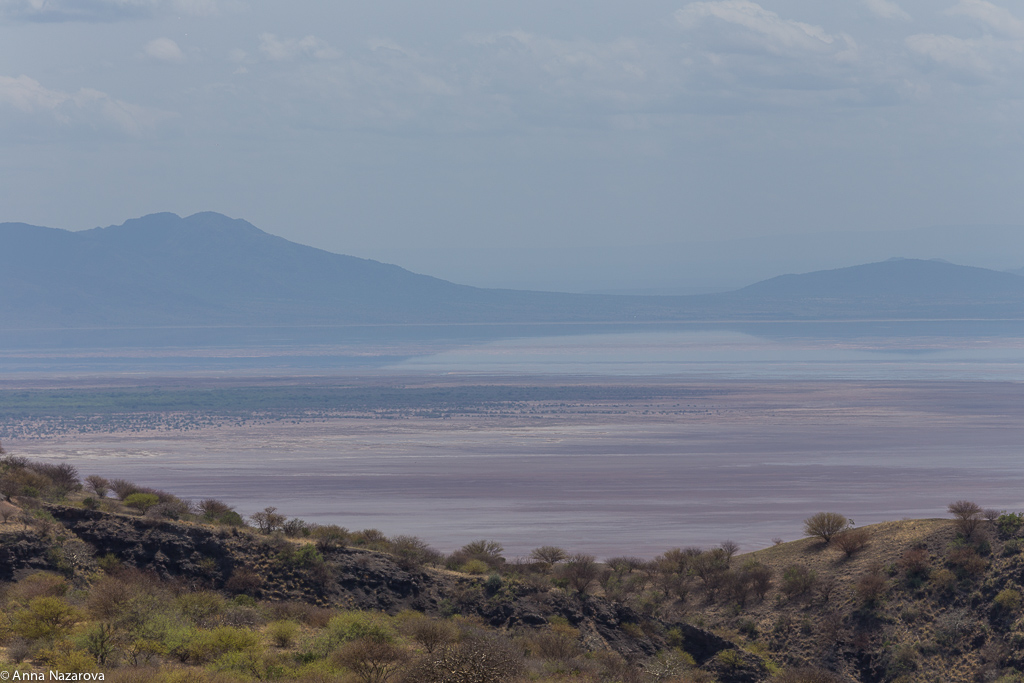 Stay tuned!